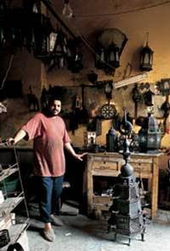 Deutsche Bank Americas Foundation's New Initiatives Fund (NIF) provides flexible financing that serves the needs of the poor and disadvantaged communities within the United States and throughout the developing world. NIF fuels the community development projects and ambitions of a new generation of social entrepreneurs who are defining market solutions to meet diverse human needs. These initiatives originate from both the nonprofit/NGO and private sectors, and they are altering the development landscape with opportunities for sustainable social, economic and environmental impacts that do not require continuing reliance on charitable support.
The New Initiatives Fund (NIF) was established in 1997 by Deutsche Bank in response to a growing demand for capital that neither fit the usual terms of a charitable grant from the Deutsche Bank Americas Foundation nor a loan/investment from the Bank. NIF was developed as a financial product that could be deployed at a larger scale than a typical philanthropic grant, with the ability to assume greater risk and lower returns than conventional bank financing. To date, the fund has provided more than $16 million to a wide variety of initiatives, including developing affordable housing throughout the United States, assisting small Gulf Coast businesses affected by Hurricane Katrina, improving the profit margins of cooperative coffee growers in Central America, establishing a mortgage industry in Kosovo and providing capital to build or improve childcare facilities throughout New York City.
The New Initiative Fund fills the capital gap for projects that have often relied on philanthropic grants for early start-up expenses and are working their way towards mainstream commercial bank financing. Commitments from NIF qualify as Program Related Investments (PRIs) under IRS regulations, allowing the Deutsche Bank Americas Foundation to further its philanthropic mission and serve the charitable needs of the poor. NIF prioritizes projects that bring an innovation to scale, have the potential to be replicated, and have realistic plans to graduate from subsidized financing sources to access conventional capital markets.