BORN TO BE

AN INSPIRATION

The Deutsche Bank youth
engagement program
Inspiring growth and success
With shifts in US demographics, providing academic and leadership supports for students of color is critically important for the nation's economic standing.
Since 1978, Prep for Prep has identified New York City's most promising students of color and prepared them for placement at the best independent schools in New York City and the top boarding schools in the country. Once placed, Prep offers support and opportunities to ensure each student's academic accomplishment and personal growth, positioning them to attend and succeed at the most prestigious colleges and universities in the world.
More than 4,500 members of the Prep Community, who are rapidly assuming leadership positions in a wide variety of endeavors, are living proof that the potential for academic and professional success exists in all ethnic groups and socioeconomic classes. They are inspirations to their peers, families and communities, and to the broader society.
How it works
Deutsche Bank supports Prep's Professional Advancement unit, which provides Prep students with access to high-quality internships, career seminars and professional skills workshops every summer. These experiences inform Prep students' educational journeys and career trajectories, prepare them for full-time employment and success at leading companies in the US, and allow them to fulfill their aspirations of becoming leaders in their chosen fields.
Prep for Prep students participate in Deutsche Bank's I Have A Dream summer internship program for graduating high school seniors. They work in various divisions of the Bank's North America headquarters in New York City for eight weeks. They also receive career mentoring through the Bank's human resources department.
Excelling
| | |
| --- | --- |
| | Over 90% of Prep's 2,546 college graduates earned their degrees from the most competitive colleges in the country; nearly 40% graduated from Ivy League schools |
| | Every year, at least 85% of Prep students graduate from college within 6 years of enrollment, as opposed to national rates of only 41% of Black/African American and less than 53% of Hispanic/Latino students who graduate from 4-year colleges within 6 years of enrollment |
Leverage
| | |
| --- | --- |
| | Prep's $60,000 investment per student leverages over $400,000 of financial aid from independent schools and colleges |
What people are saying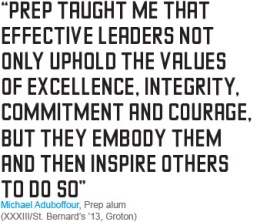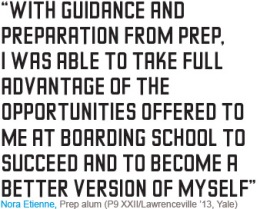 In this video, see how three people whose lives were changed by Prep are now transforming the Harlem neighborhood of New York City through their work in community health, education and real estate development.