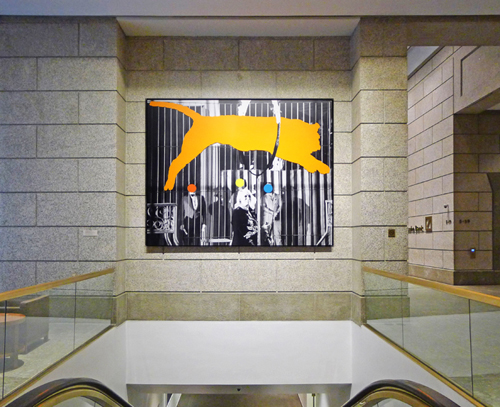 John Baldessari (b. 1931, USA) Tiger (Orange) and Trainer: With Three Figures (Red, Yellow, Blue), 2004 3-D print with acylic on sintra and dibond Deutsche Bank Collection
Contemporary art has been integrated into the work environment and the identity of Deutsche Bank since 1978. With one of the most comprehensive corporate art collections in the world, featuring over 57,000 photographs, prints and drawings worldwide, Deutsche Bank believes that Art works in multiple ways. In reception areas, conference rooms and hallways across the Americas and around the globe, art highlighting the most significant genres and influential artists of the past 50 years is prominently displayed. The objective of Art works is to support living artists, benefit local communities and create an energized work environment.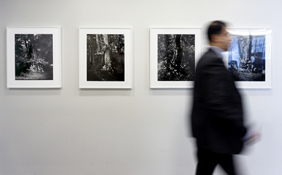 Tokihiro Sato (b. 1957, Japan)
Shirakami #1, #7, 2008,
Hakkoda #2, #7, 2008-2009
Gelatin silver-print
Installation Photograph: © Franziska Lamprecht and Hajoe Moderegger Deutsche Bank Collection
The focus of the Bank's global art collection is Works on Paper. Paper is the first place where ideas are sketched out, the beginning of the creative process that throws sparks and compels one to explore possibilities. Fostering creativity and recognizing innovative ideas for the 21st century are core values championed by Deutsche Bank. Despite value increases, the collecting philosophy of Deutsche Bank is not to buy art as an investment. Rather, the primary objective is to display quality works that embrace and reflect their time.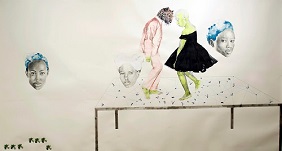 ruby onyinyechi amanze (b.1982, Nigeria) Without a Care in the Galaxy, we Danced on Galaxies (or Red Sand with that Different Kind of Sky) with Ghosts of your Fatherland, 2015 Graphite, photo transfers, collage, fluorescent paint, coloured pencils and ink on paper Deutsche Bank Collection
Since the Art works program first began in Germany, many of the early acquisitions were pieces by significant German-speaking artists. Across our North and Latin American branches, works by many German contemporary masters such as George Baselitz, Joseph Beuys and Sigmar Pölke are juxtaposed with works by master artists from the host countries, and span over three decades of art history. Artworks are selected by an art committee based on quality, location criteria and cost. As the Bank has grown globally, so has the size and interactive nature of the art collection, reflecting today's diverse contemporary art world and an international point of view.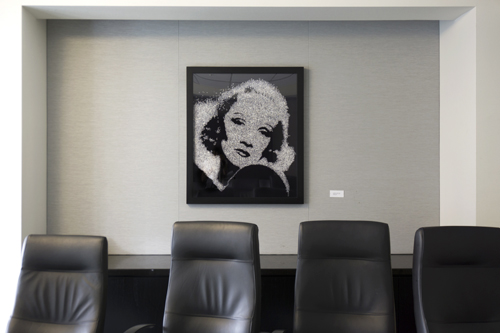 Vik Muniz (b. 1961, Brazil) Marlene Dietrich, 2004 Cibachrome print Installation Photograph: © Franziska Lamprecht and Hajoe Moderegger Deutsche Bank Collection
Located in an exciting multicultural city, the New York art collection reflects not only the vibrant contemporary art world of first class galleries and museums, but also the international profile of the people who work and visit the Bank daily. Juxtaposed on the walls in four main buildings are nearly 3,800 drawings, photographs and prints by artists living on different continents who share the common language of art.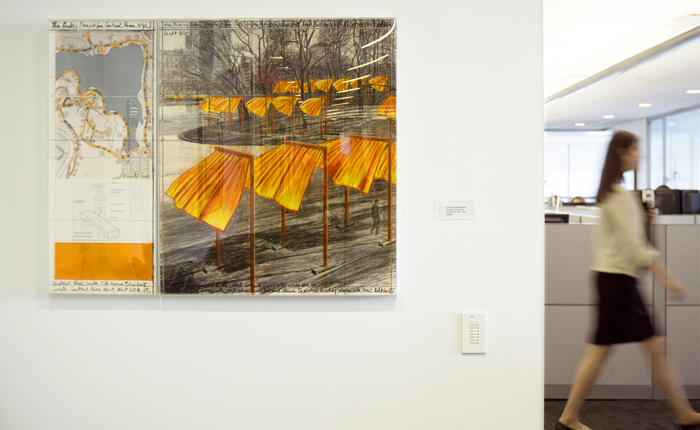 Christo (b. 1935, Bulgaria) and Jeanne-Claude (1935, Morocco) The Gates, Project for Central Park, NYC, 2003 Collage, pencil, fabric, wax crayon, charcoal, enamel paint, and pastel Installation Photograph: © Franziska Lamprecht and Hajoe Moderegger
Deutsche Bank Collection
Each floor of the New York headquarters at 60 Wall Street greets visitors and employees with a different theme. Organizing the collection topically helps viewers gain a better understanding of the work when seen within a context. It also gives a different character to each floor. Floor themes such as "Drawings by Sculptors," "All About Eve" (figurative works), "Off the Grid," and "Theories of Relativity" (works highlighting differences in scale), offer a range of subjects realized on paper.
One floor is devoted entirely to photography-based works, while another features woodcut prints from around the world. With a collection begun in 1978, one starts to see fascinating connections between several generations of artists who share aesthetic concerns across borders.