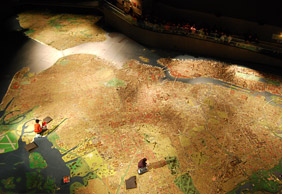 Detail from Damon Rich
Cities Destroyed for Cash, 2009
Queens Museum of Art
Deutsche Bank Americas Foundation is steadfast in its commitment to a new generation of cultural institutions that are critical in the revitalization of transitional neighborhoods. Recognizing that communities outside the economic mainstream have realized only limited opportunities from the vitality of the arts sector, Deutsche Bank launched the Arts & Enterprise grants program in 2001. This place-based RFP encourages the use of art, culture and design as tools for the economic development of distressed communities, as well as to provide neighborhood residents with new employment, career and entrepreneurial opportunities.
These organizations are redefining the city's cultural landscape, with many deciding to expand their footprint and undergo major capital campaigns to build new or renovate existing facilities. In 2007, Deutsche Bank Americas Foundation added the New Spaces RFP to its arts portfolio to help these mid-sized cultural organizations become world-class institutions with unique programming, solid governance, financial stability and strong ties to their local communities.
Unfortunately, the recent economic downturn was hardest felt by these organizations, many of whom are outside the mainstream of New York City's philanthropic community. These cultural institutions had already made significant reductions in staff, implemented furloughs and curtailed services to local residents. In response, Deutsche Bank in 2009 invited former Art & Enterprise grantees to apply for a new RFP, a series of stabilization grants. These resources enabled the Bank's cultural partners to continue to preserve their role as anchors within their communities and sustain their level of outreach to low and moderate-income individuals.
In 2011, Deutsche Bank introduced a funding initiative focused on developing technological usage in cultural settings. Grants were awarded to organizations that proposed projects that use emerging technologies to further their own educational programming, reach new audiences, engage new artists and maximize their own efficiencies.
As long-term investors in these organizations, Deutsche Bank has leveraged the arts as a catalyst for positive economic, physical and social change. These RFPs are constantly being reshaped to meet the changing needs of arts organizations.