Partnership
The UK Charity of the Year programme is a two-year partnership with a pioneering charity aiming to address society's most pressing issues by working with an expert organisation in the space. Since 1999, the programme has raised over £26million and has enabled strategic growth for 28 charities by utilising Deutsche Bank employee skills, knowledge and expertise. The partnership's overriding ambition is to create a legacy by delivering meaningful impact for the charity and the issue it aims to address.
Charity of the Year 2024-2025
The application process to become Deutsche Bank's UK Charity of the Year 2024-2025 is now open. Our next partnership will aim to address vulnerability and inequality in the UK.
We know that social and economic disparities can intensify existing challenges for vulnerable groups, such as securing housing, finding stable employment, accessing education, and managing cost-of-living pressures. These vulnerable groups include marginalised communities, children, the elderly, people with disabilities, caregivers, and more.
We are looking for charities with a cross-sectional focus on projects in areas such as education, health, empowerment, social inclusion, and employment access. Together, we'll forge a powerful partnership to bridge the inequality gap, break down barriers faced by vulnerable groups, and promote social and economic equality for all.
For full information on eligibility criteria, application guidelines and timelines, download our application overview. Deadline for applications is 23:59 on Friday 30 June, 2023.
We'll also be hosting an information session, to give more insights to the programme, explain the process and answer any questions, on Monday 5 June, 12:30pm. A maximum of two employees per eligible charity can register for the session here.
Charity of the Year 2022-2023
MQ Mental Health Research is helping to create a future where mental illnesses are understood, effectively treated, and one day prevented. MQ is the only charity that exclusively invests into scientific research for different mental health conditions and treatments. Founded in 2013, the charity aims to double the amount it spends on ground-breaking, lifesaving research by 2025.
Through employee fundraising and utilising the bank's wealth of skills and talents, more early career researchers will be supported and retained within the field of mental health science to discover more effective solutions for the 1 in 4 of us who are affected by mental illness each year.
Impact with MQ Mental Health Research, Charity of the Year 2022-2023
What people are saying
"Deutsche Bank's incredible support has been truly transformative for MQ Mental Health Research. Their staff have raised funds to invest in cutting-edge mental health research and shared their skills and expertise to help turn that research into real, tangible results. Employees across the bank have played a pivotal role in transforming the lives of the 1 in 4 of us affected by mental illness and embraced our team as part of theirs in reducing stigma, increasing awareness and innovating how partnership is done. Thank you to everyone at Deutsche Bank who has supported this amazing partnership that will have a legacy of impact on the mental health landscape and on lives for years to come!"
Fundraising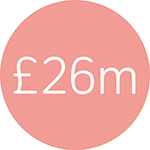 Charity of the Year programme has raised over £26 million for 28 charities.
One Day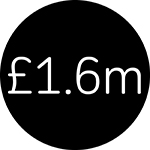 Charity of the Year programme raised almost £1.6 million across two years through the bank's One Day annual fundraising campaigns in 2020-2021, where employees donated a day's salary, that was matched by the bank.