Deutsche Bank Group Japan given 'Gold' standard as a LGBT-friendly workplace for 7th year
Deutsche Bank Group in Japan ("Deutsche Bank Japan") announced today that work with Pride ("wwP"), a voluntary organization that promotes LGBTQ+ inclusive workplaces in Japan, has awarded 'gold' standard for the seventh year running.
Vaidy Ganapathy and Jiana Leung collected the award on behalf of from Deutsche Bank Group at the wwP conference held on November 10th, 2022, in Tokyo, Japan.
Vaidy Ganapathy, co-head of dbPride Japan along with Toshiyuki Kanazawa, commented on the award. "We are very honored to be recognized for our efforts to create a better workplace environment, we are also highly encouraged by new members joining dbPride Japan, and we are looking forward to launching new projects and disseminating our initiatives even further."
Jiana Leung, Deutsche Bank's Head of Human Resources in Japan, said, "Our commitment to diversity and inclusion commitment remains the same and continues to develop further. It is very encouraging to receive the Gold award for the seventh year in a row and we will continue to work with management to create an environment of equity and inclusivity for all driven by a shared purpose."
Tamio Homma, Chief Country Officer of Deutsche Bank Group in Japan, said, "I am very pleased that Deutsche Bank Group's longstanding efforts have been recognized again this year for the seventh time. Creating diverse and inclusive workplaces where employees are able to realize their full potential and work with confidence will continue to be an important foundation for Deutsche Bank Group in the future. "
Deutsche Bank Group is committed to promoting diversity and creating an inclusive work environment where all employees can always be true to selves. Deutsche Bank CEO Christian Sewing says "How successful we are in our shift from transformation to sustainable growth will depend greatly on the growth and development of our diverse talent. We are focused on improving how we collaborate, lead and learn – and this requires thoughtful people management."
In Japan, dbPride, an employee network, was established in November 2013, and LGBT employees and allies who support them are actively involved in the organization. Members are working to promote understanding in the wider society by participating in Pride parades in Tokyo and LGBT finance events, which are activities of the financial industry as a whole.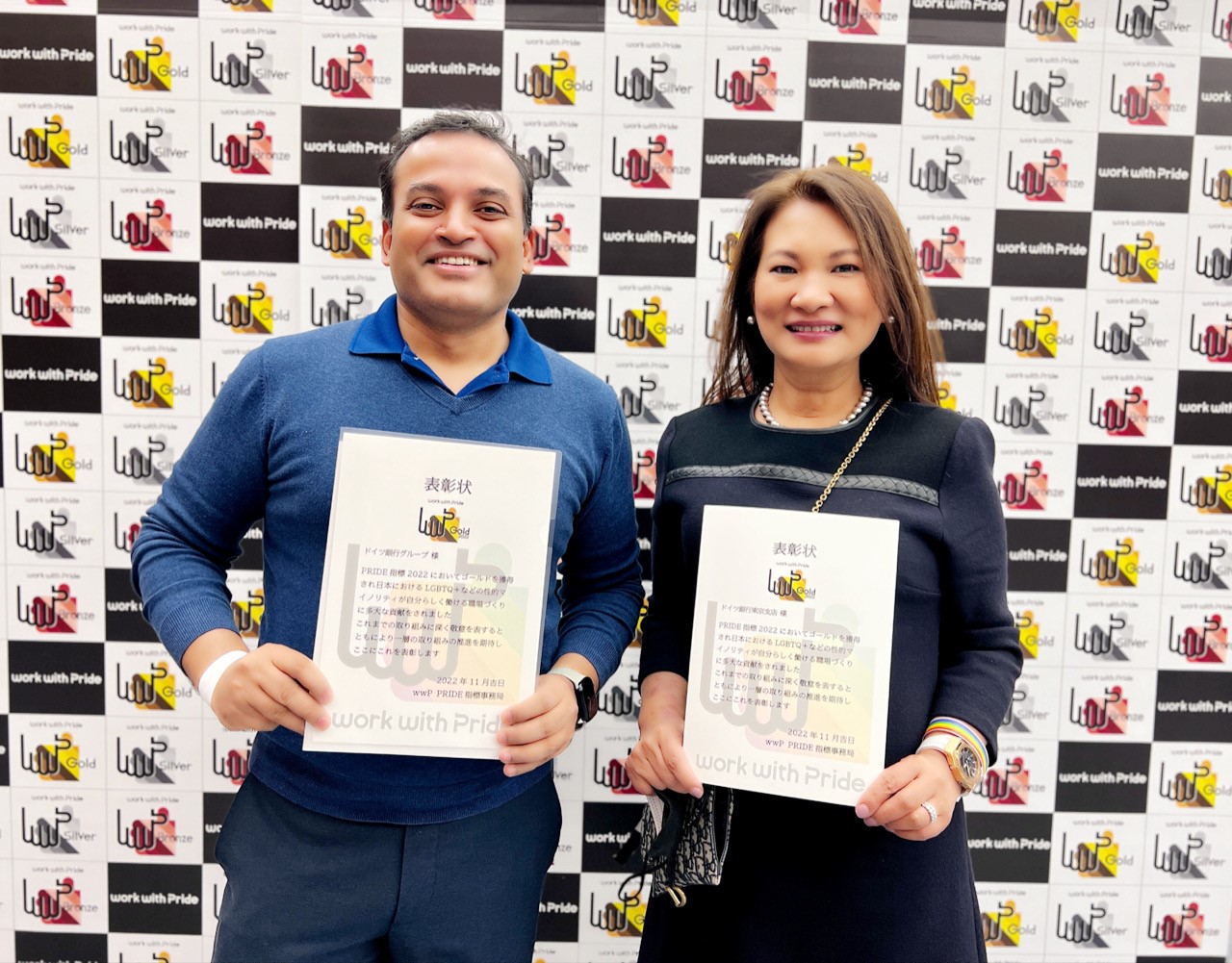 About Work with Pride (wwP)
wwP is a voluntary organization that supports the promotion and establishment of diversity management related to LGBT and other sexual minorities in companies and organizations. wwP is the first organization in Japan to develop and publish an index to evaluate companies' efforts regarding LGBT employees since 2016.

Media Inquiry
Deutsche Bank Group Japan Tokyo Communications
tokyo.communications@db.com
81-3-5156-7703