A ray of hope for children with cancer in India
In May 2021, 14-year-old Ayush was rushed to his local hospital in Delhi suffering sudden abdominal pain. The bill for the operation he underwent that day came to 200,000 rupees (about 2,500 euros) – an immense sum for Ayush's father, the sole breadwinner of the family, who earns 10,000 rupees (around 125 euros) per month. Consequently, he was forced to borrow money. To make matters worse, Ayush was diagnosed with Rhabdomyosarcoma, a type of cancer that targets soft tissue or hollow organs. As the world around them was crumbling, the devastated family saw a silver lining when they were referred to Tata Memorial Hospital in Mumbai. There, Ayush would be treated by some of the country's best oncologists, at no cost, thanks to Deutsche Bank's support.
Deutsche Bank partners with the Tata Memorial Hospital through its CSR Born to Be programme to support the cancer treatment of children like Ayush, whose families would otherwise find it nearly impossible to bear the expenses. The seven-year partnership has already helped over 10,000 children, with diagnosis, treatment and post-treatment therapies.
"The financial help given to us relieved us from the worry of gathering funds for completing the treatment of my child and helped me focus on the other areas with regards to Ayush's treatment", Ayush's mother said. The teenage cycling, cricket and badminton enthusiast underwent further surgery and is now recovering well with chemotherapy.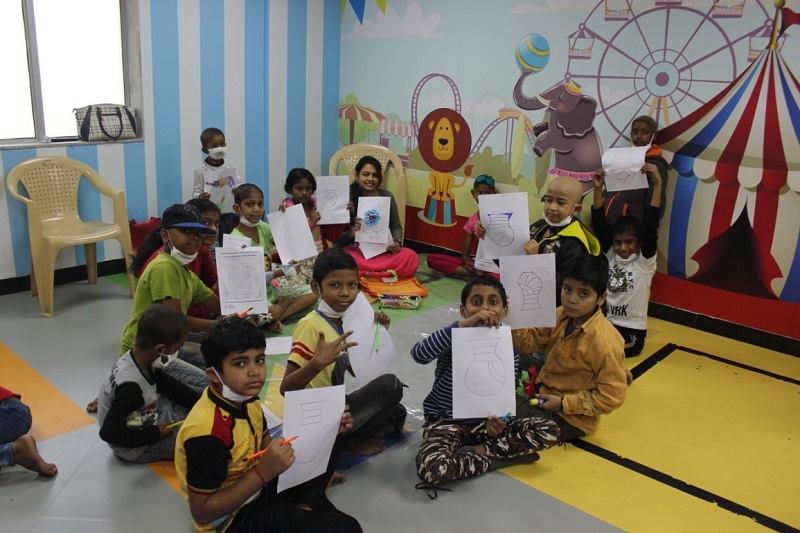 Holistic support
Cancer in children is mostly curable with timely access to medical infrastructure, intensive post-treatment care and adequate nutrition. However, the mental toll that such life-altering events have is unimaginable. Precious education time is also lost. To bridge this gap, Deutsche Bank supports CanKids KidsCan. This NGO provides the necessary medical and developmental resources to child patients and their families through accommodation, logistical support, psycho-emotional care, counselling, health and safety equipment and educational facilities. Over the last seven years, Deutsche Bank has supported more than 15,000 children through this programme.
Volunteers pitch in
The bank's active volunteers are bolstering these efforts by conducting special classes for young patients. Currently, seven of our volunteers are teaching English and Mathematics to 40 students aged nine to 13 years, to bring them up to their grade level. Over the years, volunteers have also visited the NGO to celebrate birthdays and festivals such as Diwali with the children.