Women in Banking and Finance Forum focus on Social initiatives for a sustainable future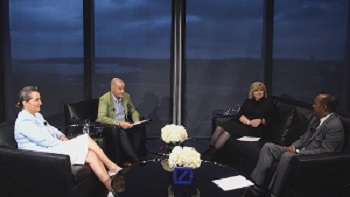 Deutsche Bank hosted its 13th Annual Women in Banking and Finance (WiBF) Forum in Sydney this week. This year's theme was 'The S Factor: dealing to win'. Panelists debated how, despite the extraordinary challenges the world faces today, social initiatives can enable us to deal a better hand for society and build a more sustainable future.
Sharing perspectives from three industries - aviation, film and digital networks – here's what the panelists revealed how the 'S Factor' is a core pillar of their strategy and business.
Dark times for aviation, but light at the end of the tunnel
"When COVID hit, in just four days the international borders closed, then the domestic borders, and then the country went into lockdown. We had a big liquidity issue very quickly. It's been incredibly tough but we're now at a point where we have raised equity, restructured our cost base, and are delivering transformation. Our people have shown incredible drive to get flying again. Human and social connection is so important to everyone and airlines can facilitate that. We want our customers to feel hopeful about the future again."
Vanessa Hudson, Group Chief Financial Officer, Qantas
The return of cinema
"We're definitely not seeing death of the cinema, but we need to continue to fight hard for its future. Film and the arts are very important for society. They show us the way forward, reflect what is happening and help us imagine what the future might look like. When tickets went on sale for the Sydney Film Festival this year – after it was cancelled last year - we had a phenomenal response. This year we introduced our first Sustainable Future Award which was won by a film called 'Burning' about the 2019 bushfires in Australia. It's an angry and important film that people need to see."
Nashen Moodley, Director, Sydney Film Festival
Online won't replace in-person
"As the largest broadband network in Australia we've provided an important service through the pandemic. This has attracted people to our organisation because they can see the social value of what we do. Of course online can't replace physical face-to-face connection, so I don't see us as in competition to say, the airline industry. We're a complement to it. We'll continue to work hard to increase speed for our customers to help them connect. We're also investing in powering our network through renewables, putting funding into wind farms and looking to issue a sustainable bond next year."
Fiona Trigona, Executive General Manager and Group Treasurer, NBN Co
About Deutsche Bank and WiBF
Deutsche Bank is proud to be a Diamond Member of Women in Banking and Finance (WiBF), Women in Banking and Finance (WiBF) is an established not-for-profit organisation making a tangible impact in addressing gender diversity in the financial services sector. Deutsche Bank has hosted the WiBF Annual Forum since its launch in 2009 as an important part of its global commitment to diversity and inclusion. Over that time the event has featured more than 50 leaders across politics, business, innovation, the not-for-profit sector, and the arts, each year tackling challenges facing the business world
Glenn Morgan, Deutsche Bank's Chief Executive Officer for Australia & New Zealand, said "The Annual Forum is a flagship diversity event for the bank that importantly provides a platform to discuss key social issues. There is an incredibly rewarding drive in being the financial institution that is an agent of positive change, Deutsche Bank is absolutely committed to playing our part in creating a sustainable world. By raising awareness and inspiring action, the event aims to empower a new generation of environmentally conscious youths who are motivated to become change makers."